LiveWiseMS Newsletter: March 2017
Valuable information for MS patients and caregivers
March is MS Awareness Month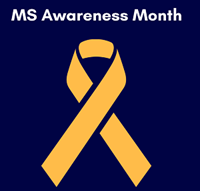 March is Multiple Sclerosis (MS) Awareness Month and a great opportunity to educate the public and spread the word about the disease.
According to the National MS Society, there are over 400,000 people in the U.S. and 2.3 million people worldwide living with multiple sclerosis. Add in care partners, family, and friends and that's an awful lot of people affected by multiple sclerosis. It's amazing that there is still a lot of misinformation and a general lack of knowledge out there about MS.
We hope that you're taking opportunities to raise awareness; it is one of the keys to unlock our future of successful living with multiple sclerosis. Fortunately, MS is not the disease it used to be but there is still a lot of work that needs to be done.
Additional Reading:
How do you spread MS awareness? Share with us in the LiveWiseMS forums.
What People Are Talking About: Medical Marijuana

Medical Marijuana
The use of medical marijuana is increasing and may help people with certain conditions or diseases. With Multiple Sclerosis, you may experience many symptoms including spasticity and pain. With all the talk in the news about medical marijuana, you may have wondered if this may help with your symptoms.
Read more >>
Symptom Spotlight: Fatigue
Fatigue in MS is reported to be one of the most debilitating symptoms. Patients report being affected by fatigue both mentally and physically. Learn more about this symptom with the articles below:



Perceived Impact of a Self-Management Program for Fatigue in Multiple Sclerosis
Fatigue interferes with patients' ability to care for themselves and their family, participate in daily activities, hold a job, and, in many instances, cope with other symptoms of MS.
Read More >>



Fatigue and Comorbidites in Multiple Sclerosis
Comorbidities, which are diseases or conditions other than MS, are common in MS. This study aimed to determine the presence, onset, and worsening of fatigue over time, as well as comorbidities that are associated with fatigue in MS.
Read More >>



Associations Between Fatigue and Disability, Functional Mobility, Depression, and Quality of Life in People with Multiple Sclerosis
This study examined the association between different levels of fatigue in people with MS and disability, mobility, depression, and quality of life.
Read More >>


REVIEW MORE TOPICS >>
Below are some of the most popular resources on LiveWiseMS.org:



Multiple Sclerosis and Exercise
Physical exercise can increase your energy levels, improve your walking ability and physical function, and provide a higher quality of life.
Read More >>



Neurology for the Non-Neurologist
This book chapter avoids detailed, technical discussions of MS, concentrating instead on treatment of the disease and of accompanying symptoms.
Read More >>



Multiple Sclerosis in Pregnancy
Pre-pregnancy family planning, the risks and benefits of taking drugs for MS before, during, and after pregnancy, and other pregnancy-related issues should be discussed with your healthcare provider.
Read More >>


REVIEW MORE RESOURCES >>
Connect with LiveWiseMS on Social Media
Social media can be a great resource for people with MS. Not only can you gain a sense of community, support and inspiration, but you can stay up-to-date with the latest information about multiple sclerosis.

LiveWiseMS.org has social media pages on Facebook, Twitter, YouTube, LinkedIn, Google+, and Instagram. If you're on any of these social sites, we encourage you to follow LiveWiseMS and stay updated about multiple sclerosis.